Rio Broker is a stand alone software data mover that can intelligently connect NAS, FTP, Object/S3, and Spectra BlackPearl to a variety of local and cloud storage targets.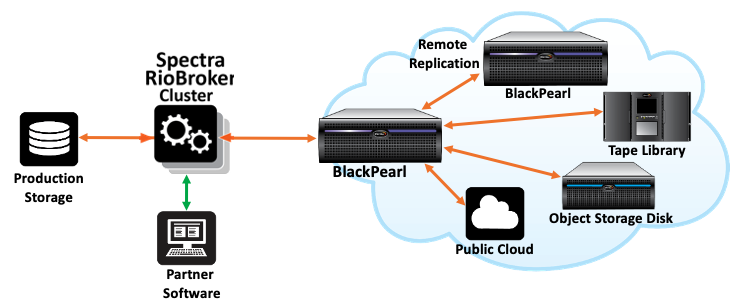 Rio was originally designed to provide an automated data mover interface for the Spectra BlackPearl product family, but over the years has expanded to include a rich job tracking engine, metadata tagging, browser based archive and restore, partial file recovery and other features to make asset centered workflows easier and faster.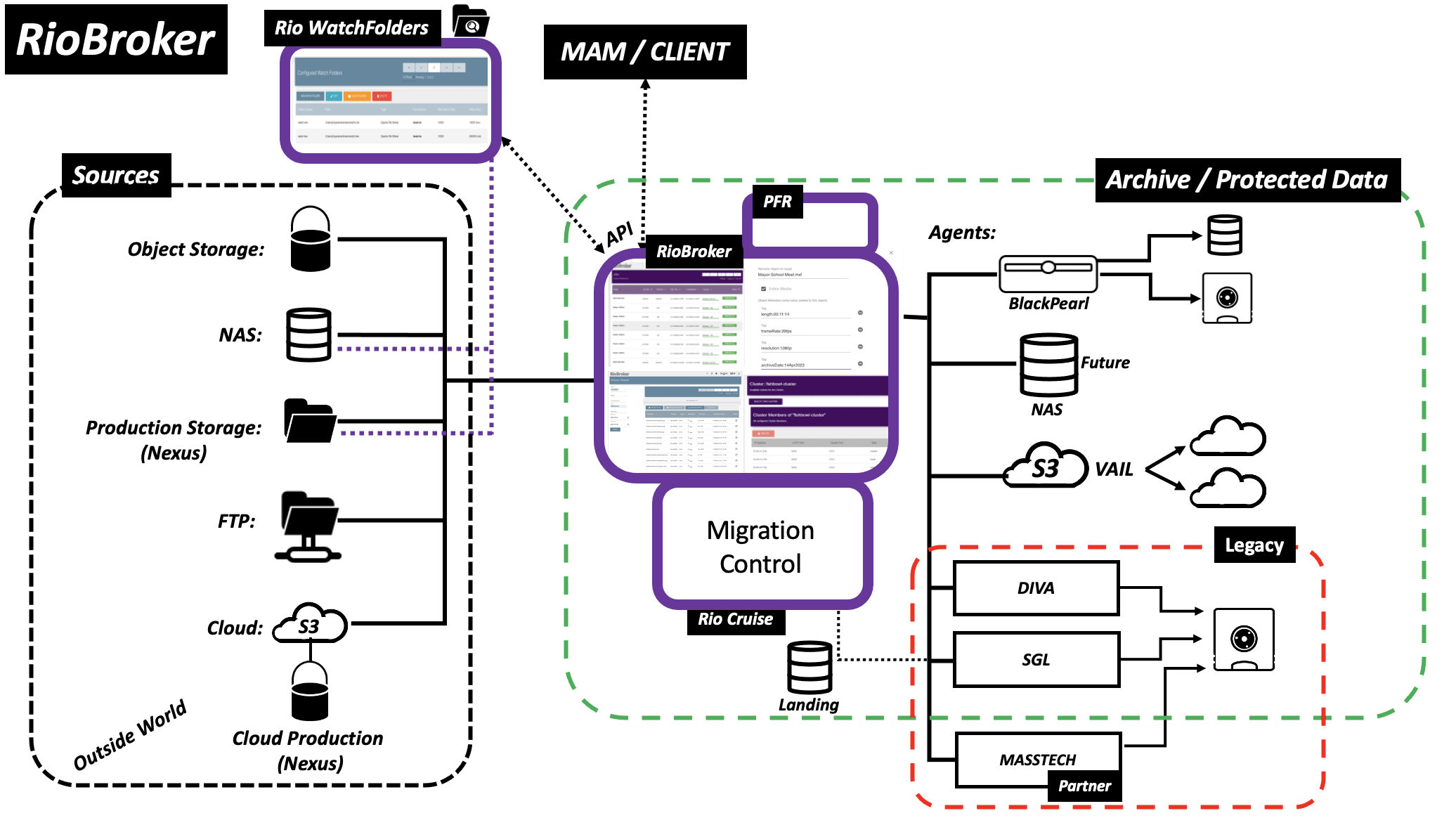 Historically, clients (Media Access Managers, Video editors, file managers) would be responsible for moving data in and out of storage locations or archives. As storage became faster, and clients focused more engineering on value added features (search, metadata, proxies etc), satisfaction with speed and reliability of storage targets became an issue. The solution was to allow clients to focus on their own value add and shift the "data mover" function out of the client. It is much more efficient for a client to ask an external system to "go move this 20TB of files into my archive" rather than burdening the client with that function. This was true for Spectra BlackPearl solutions but was also developed in parallel by well known "middleware" software packages like Front Porch Digital's Diva software or SGL's Flashnet software. Many companies have used these for years and middleware has been a huge value add to the Media and Entertainment industry. In the last 5 years, however, there has been a huge shift to open standard storage, cloud storage, and object storage systems creating demand for more modern technology in this space.
The combination of Rio and BlackPearl provide storage using open standards - no vendor lock in, modern object storage interfaces, open databases with metadata tagging, broad job monitoring, and built in redundancy.
Rio Broker: The main data mover engine [Rio]

Uses a simple RESTful interface to create jobs to move files/objects to/from NAS, FTP, S3, BlackPearl
Allows metadata tagging of individual objects for easier search
Includes built in browser based archive and restore functions for manual operations
Includes detailed job tracking, search, and statistical data to track file and job status
Allows abstraction of sources/targets - essentially creating a single namespace across disparate storage locations
Is clusterable for both redundancy and speed
With the addition of the Partial File Recovery [PFR] plugin, allows clients to specify time offset (tag in tag out) portions of a file to retrieve

Rio Cruise: A purpose built, standalone, migration tool used to prepare and migrate data from legacy middleware (Diva, Flashnet, Masstech) to modern object storage systems

Includes a pre-sort tool that allows intelligent migrations based on existing metadata
Includes migration monitoring and reporting
In conjunction with the single namespace function of Rio Broker, allows a migration to take place transparently to the end user

Rio Watch Folders: A standalone tool that allows monitoring of various file systems to auto-move/copy

Includes auto tagging, PFR, and other options based on initial setup
Includes ability to instantly or delay ingest based on initial setup
Can be set up as many to one watch folders - using Rio Broker as the data mover